Lead generation is an essential activity for every business. In fact, I say it is the first and foremost marketing activity that every business owner should learn to master, or find someone who can master it for them. This article is a beginner's guide to Lead Generation – why you need it and how to implement it.
What is a lead?
A lead is a person who has indicated an interest in your product or service in some way – whether online or in person.
As a lead, you would hear from a business with which you've already opened up communication by having engaged with them. Perhaps by:
completing an online form
messaging them through social media
engaging with an online ad
completing an online survey
What is lead generation?
Lead generation is the process a business adopts to attract, convince and convert interested people (potential customers) into someone who has indicated an interest in your business (a lead). The end goal is to convert them into becoming a paying customer.
This process can take on many forms depending on your type of business and the demographics and interests of your customers. However a typical and simplified process might include:
a blog post or web page about a topic your business serves in
a call to action on the page inviting the reader to enter in their email address in exchange for a handy tool or useful information (a

lead magnet

)
an email marketing platform that automatically sends a series of emails to the lead with additional information about the topic
a small purchase option to acquaint the lead to doing business with you (now a customer)
upselling to the main product/service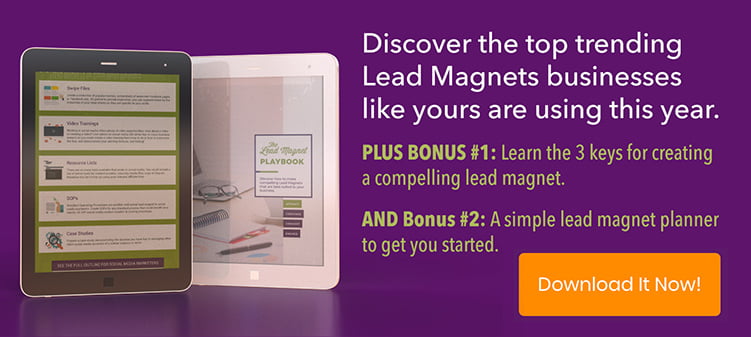 Why do you need lead generation?
Generating new leads is an essential and ongoing necessity for any business especially one that wants to grow. If you have an effective lead generation process in place it will not only increase leads but it will also bring in the right customers (qualified leads) your business wants.
How do you generate leads?
Here is a simple walk through of a basic lead generation process.
First, a wonderfully relevant person (Jane) discovers your business through one of your online marketing channels, such as your website, blog post, a Google search or through your Facebook page.
Jane then clicks on your call-to-action (CTA) — an image, button, or message that encourages them to take some sort of action (it could be a click or even to call).
That CTA takes Jane to a landing page, which is a special type of web page that is designed to include a form so to capture her contact information in exchange for a special offer (lead magnet).
The offer or lead magnet is something of value that's being "given" on the landing page, like an ebook, a free course, a template or video training (anything really as long as it is something they can receive straight away). The offer must have enough perceived value to Jane to merit providing her personal information (like her name and email) in exchange for it.
The form on your landing page consists of a series of fields (the space to enter a name and email address) that collects Jane's information in exchange for the offer. Once Jane fills this out — you have a new lead!
That form will be connected to an email marketing platform (like Convertkit or Mailchimp). It is set up to email Jane the offer (lead magnet) automatically to the email address she entered in. You will now be able to send Jane other email messages – but only if they are relevant to the offer and your business as you don't want to make Jane angry.
What do you do with the leads?
Now that a potential customer has initiated an interest or enquiry into your business's products or services and they have given you a means by which to contact them (email or phone) you can begin to develop (or nurture) a relationship with them. This process of nurturing the relationship moves you into the next stage — "Lead Nurturing".
What is lead nurturing?
Lead Nurturing is the purposeful process of engaging with leads by providing relevant information at each stage of their journey with your business. This can be before, during and after a purchase with you. Your aim is to actively move the leads through your sales process to the point where they become paying customers.
What tools are used in lead generation?
an end product or service you are aiming to sell (begin with the end in mind)
blog, webpage, social media page or an online ad (with a call to action)
landing page (with a lead form)
an offer or lead magnet (see my list of Lead Magnet ideas)
an email marketing platform (I prefer Convertkit or Mailchimp)